It's always inspiring to see how people go on to achieve great things after experiencing failure.
This Instagram user,
Tricia Obazele
's (
@trishlina
) story is one of such.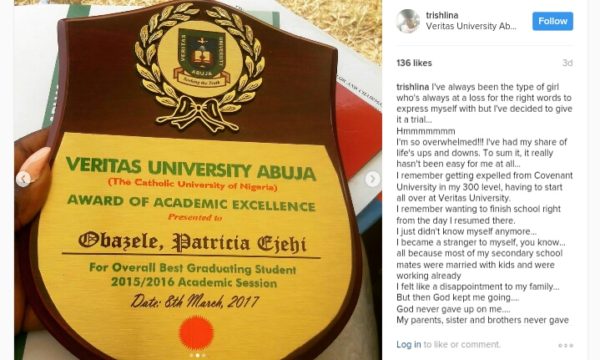 After she was expelled in her penultimate year in the university, Tricia didn't remain down but enrolled again at another university, although with the pain of failure in her heart.
Four years later, she's the 2015/16 Best Grauating Student of her Department, Faculty, and the University.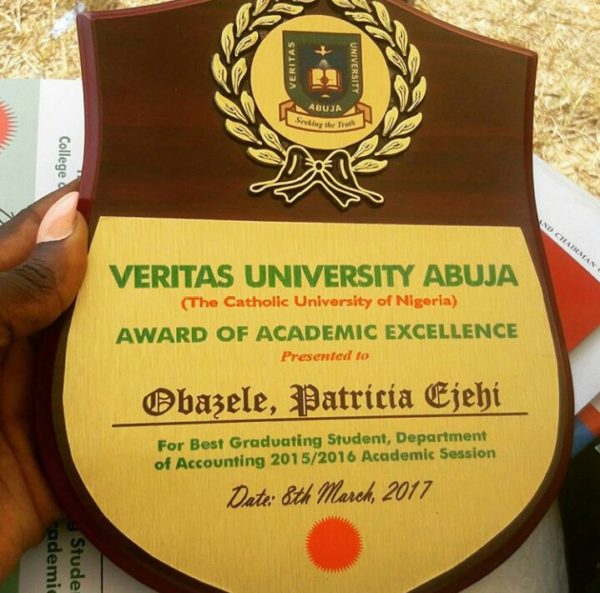 That's how you come back from failure!
Read her story below:
I've always been the type of girl who's always at a loss for the right words to express myself with but I've decided to give it a trial…




Hmmmmmmm. I'm so overwhelmed!!! I've had to my share of life's ups and downs. To sum it, it really hasn't been easy for me at all…




I remember getting expelled from Covenant University in my 300 level, having to start all over at Veritas University.


I remember wanting to finish school right from the day I resumed there.
I just didn't know myself anymore…
I became a stranger to myself, you know… all because most of my secondary school mates were married with kids and were working already.
I felt like a disappointment to my family… But then God kept me going….
God never gave up on me….


My parents, sister and brothers never gave up on me…




I decided to channel my pain towards my studies….




I remember studying all night because of one test, assignment or exam!




I remember studying in hunger all because of brokage! Lol




I remember being sick almost everytime! Ulcer wasn't funny at all…




Despite all these and many more, I wanted to make it, to make MUMMY and DADDY proud… I wanted to make them forget my past mistakes…




Now look, I made it!!! Please tell MUMMY, DADDY, OMO, EHIS and EMMA that I made it…


I graduated with a First Class Degree…
God made it happen.


God told me to work hard and always be a good girl and I tried my best….




Truly, it isn't how FAR, but how WELL!!! Three Awards, like really???




Best Graduating Student, Accounting Department.




Best Graduating Student, College of Management Sciences


Overall Best Graduating Student
My name, EJEHIYOOKHIN, explains it all
THANK YOU JESUS
Photo Credit:
Instagram –
@trishlina